2023 Experimental Print Prize
15 September 2023—28 January 2024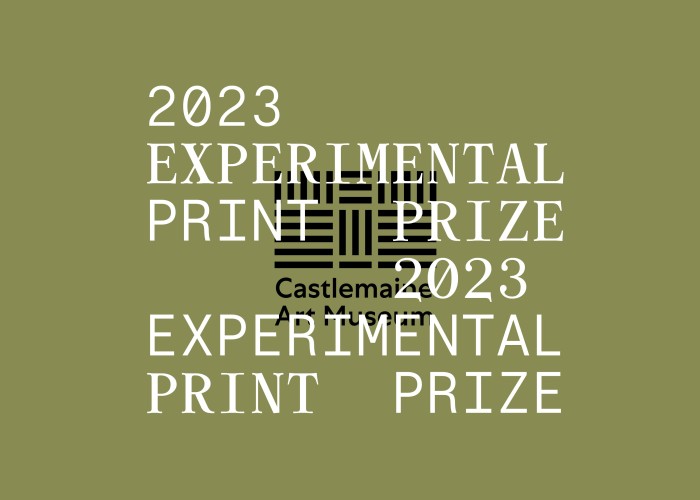 2023 Experimental Print Prize
Celebrating innovation in Victorian printmaking
Castlemaine Art Museum presents the third Experimental Print Prize (EPP). Established in 2019, the biennial, non-acquisitive prize is open to artists residing in Victoria. There is a strong tradition of printmaking in Victoria and the EPP seeks to foster new directions in the field, through both the exhibition of shortlisted artists and awarding of prizes. Unique amongst printmaking prizes, EPP recognises that experimentation and risk are essential to art.
Judges Richard Harding and Beverly Knight are pleased to announce the following prize winners: First Prize ($10,000); Highly Commended ($5,000) and Emerging Artist Award ($3,000).

First Prize
Margaret Manchee, U & I , 2023, paper, ink and copper leaf


Highly Commended
One-Three Collective (David McBurney and Mark Dustin), Fountain, 2023, looped moving image, capturing processes of mechanical print reproduction on LED light matrix
Emerging Artist Award
Simon Dubbeld, FILTH, 2023, dirt collected from the entrance to the Castlemaine Art Museum
"It was a great honour working with my co-judge Richard Harding and together, we seemed to unite from day one when choosing the finalists. The calibre of entries this year was very high and our initial role to select 44 finalists from nearly 200 entries was difficult. The brief of experimental print making, really did assist us both in selecting the finalists and the winners.

Walking into the exhibition at CAM to judge the winners, we were grateful for the incredible installation of the works over two galleries by the CAM staff, making our role so much easier.

There could have been several winners in each section. I would like to mention Marika Strohschnieder, whose extraordinary entry tormented us: was this the First Prize? Finally, we chose Margaret Manchee's U & I, 2023. We found the intimacy of her entry totally captivating.

The Highly Commended award could have gone to Chris Orr with his unorthodox assemblage of renaissance engraving and print making techniques, or Lara Zarei for her embodying her middle eastern heritage in print. But the effort of collaboration in art, I must confess Richard's understanding of the print process in the Collective entry was hugely helpful, we agreed One-Three Collective's Fountain, 2023, was the worthy winner. The skill of artist Andrew Browne did not go unnoticed as did the forward experimental work by Catherine Pilgrim.

The emerging artist award was certainly the most difficult award to select with so many terrific entries. I would like to mention Odin Strbac Low for his work bringing to mind issues of climate change and art. However, the thought process behind Simon Dubbeld's FILTH, 2023 and the use of dirt from the front of the gallery and the history of stencil print media, won us over."
– Beverly Knight

2023 EPP Finalists
From more than 150 entries, 43 finalists were selected:
Andrew Browne, Bronwyn Calcutt, Sarah Canham, Hannah Caprice, Di Christensen, Melanie Cobham, Mimmo Cozzolino, Marian Crawford, Greg Creek, Kaye Dixon, Simon Dubbeld, Mark Dustin, Rubyanna Edwards, Matthew Feder, Silvi Glattauer, Andrew Gunnell, Robert Hague, Deanna Hitti, Kathy Landvogt, Kir Larwill, Monica Lazarri, Bruno Leti, Marco Luccio, Michael Lye, Margaret Manchee, Kelly Manning, Aylsa McHugh, Megan McPherson, Sandra Minchin-Delohery, One-Three Collective, Chris Orr, Brenda Page, Kat Parker, Catherine Pilgrim, Melissa Proposch, Kat Rae, Trudy Rice, Odin Strbac Low, Marika Strohschnieder, Clayton Tremlett, Kylie Watson, Michael Wolfe, Lala Zarei.

Finalist Artist Statements and Biographies
Read them online here.

Watch the announcement video below and hear the judges discuss the winning works.

2023 Judges
Richard Harding
Richard Harding is an artist, curator and educator based in Naarm, Melbourne. He conducts his practice led research at Ironside Studios in Kensington and RMIT University City Campus. He is currently the Print Studio Co-Leader within RMIT School of Art. Harding curated the major print exhibition Out of the Matrix in 2016, presented at RMIT University Gallery, staged a solo exhibition Pinkwashing: Spin me Out! at Bundoora Homestead Art Centre in 2019. He co-presented NEWSROOM at Counihan Gallery in Brunswick in 2021 and Gallery 25 in 2022 at ECU in Western Australia.
Beverly Knight
Beverly Knight is the founding Director of Alcaston Gallery (1989-current) Melbourne. A former CAM Director, Beverly is well known nationally and internationally for her keen eye for artists at the formative stage, support of artists especially First Nations artists, her astute business skills, and constant enthusiasm. Knight has keen knowledge of all art media including sculpture, printmaking , painting, photography, and drawing. Her curatorial skills have been called upon many times contributing to successful exhibitions including artist retrospectives survey exhibitions by Australian Public galleries and major Museums abroad. She was instrumental in the eventuation of Copyright Agency Indigenous Art Code and Resale Royalties for artist in Australia.

Acknowledgements
Castlemaine Art Museum acknowledges the judges Beverly Knight and Richard Harding for their time and consideration throughout the judging period.
The Experimental Print Prize is made possible through generous support from donor Michael Rigg.

Exhibition
Exhibition of shortlisted artists is held at CAM from 15 September 2023 – 28 January 2024.

People's Choice Award
In 2023, the EPP once again draws together artists from across Victoria to investigate new possibilities within the bounds of printmaking. The People's Choice Award of $500 is generously supported by the Friends of Castlemaine Art Museum (FOCAM).
Have your say in the People's Choice Award and cast your vote today! Visit the exhibition at CAM to have your say, or vote online here.

Public Programs
Free public programs, including artists in conversation and workshops, will be presented in the gallery throughout this exhibition. All details will be shared on our website. Click here to subscribe to our mailing list to receive updates and invitations.