Support
100 for $1000 Campaign
CAM is launching the 100 for $1,000 Campaign to raise much needed funds for operations and to keep the gallery open and free for all visitors.
As a not-for-profit organisation, CAM relies on the generous support of the community for the remaining 70% of its funding each year.
Show your support for art in the region and build on the donations achieved. Help us reach our target of 100 donations of $1,000 and fill in the bricks of the CAM façade.
CAM brings together artists and communities of Central Victoria and beyond, creating a lively arts institution of national relevance.
Inspired by its remarkable historical collection and heritage-listed art deco galleries, CAM is where the old and new collide in unexpected ways. Check out this momentum in the latest Annual Report.
CAM currently receives annual operational funding of $110,000 from Creative Victoria and $30,580 from Mount Alexander Shire Council. CAM is lean and effective with just 2.6FTE staff and a dedicated group of volunteers.
This campaign, and donations received, not only support the gallery but enable CAM to make a strong case to government for further operational funding.
Donations of $2 and over are tax-deductible. Please donate below.
DONATE AND JOIN THE 100 FOR $1000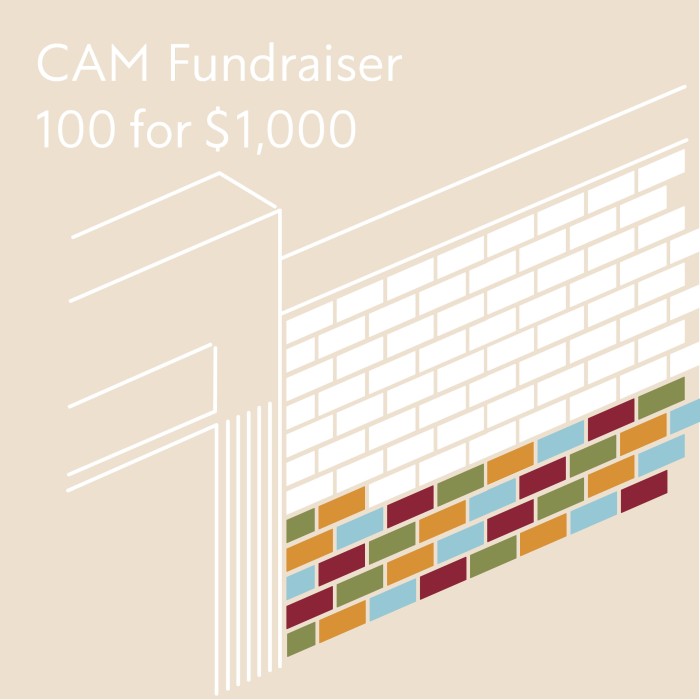 Donate
CAM Supporters
— champion the living culture and narratives of First Nations people
— create platforms for multiple voices in the exploration of art and ideas
— amplify the diverse narratives of our region and our nation
— care for the collection for future generations
All donations $2 and over are tax-deductible.
Castlemaine Art Museum (ABN 21 613 667 664) is a Not-For-Profit Association and is endorsed as a Deductible Gift Recipient.
If you would like more information about becoming a donor, please contact Front of House on 03 5472 2292 or email us.
Donate below or download and complete a Donation Form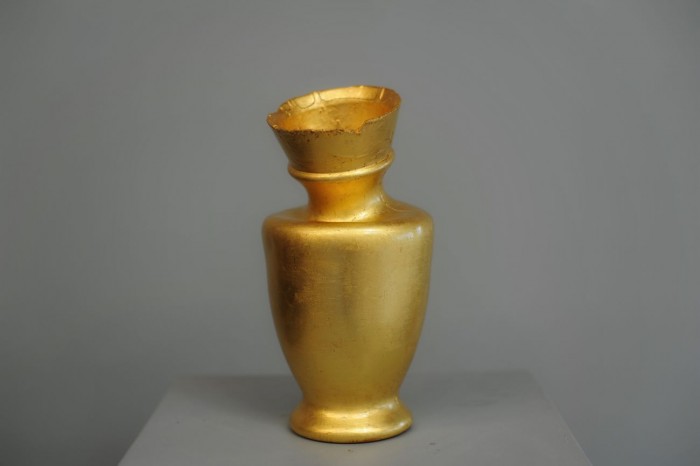 Damon Moon, Untitled, 2019/20, slip-cast, low-fired stoneware, 23 carat gold-leaf. Collection of the artist. Image: Felix Wilson.
CAM Commissions Fundraiser
CAM Commissions are a series of unique, limited edition artworks developed and available for sale in support of Castlemaine Art Museum.
The inaugural 2022 CAM Commissions see three remarkable local artists with national reputations ― Zoe Amor, David Frazer, and Melinda Harper ― create new works in response to the museum's heritage façade.
All funds raised from artwork sales will provide crucial funding toward CAM's operations, programming and community engagement ― supporting local and national exhibitions, artist commissions, inviting and accessible programs, and care for the collection.
Prices range from $250-400. This is a unique opportunity to support CAM while building your personal art collection with exclusive works from the region. Or make someone a special gift!

Purchase Artworks Online
With only 150 limited-edition works available, the 2022 CAM Commissions are now available to purchase at the gallery and online.
VIEW AND PURCHASE THE 2022 CAM COMMISSIONS ARTWORKS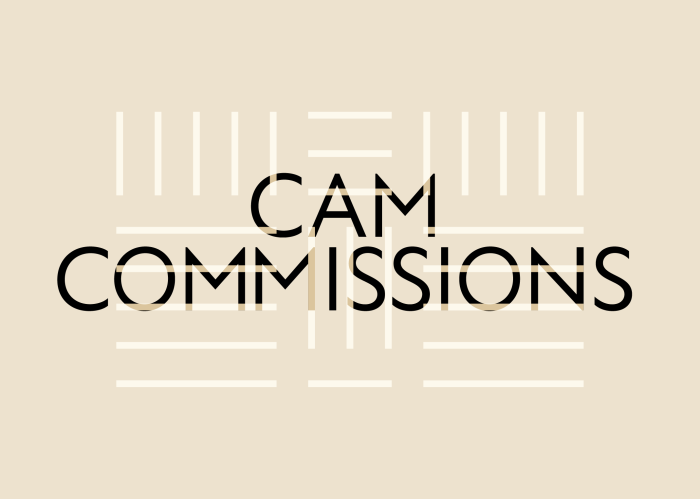 Supporters
CAM gratefully acknowledges all support, from Government and program partners through to individual donors and in-kind supporters.
Government Partners
The Victorian Government through Creative Victoria
Mount Alexander Shire Council
Program Partners
Christine Bell
Albert & Barbara Tucker Foundation
Vizard Foundation
Peter Lovell and Michael Jan
Project Eleven
Castlemaine State Festival
National Library of Australia
Legal Partner
Corrs Chambers Westgarth
Supporters
Haymes Paints
Musthave Vintage
Harcourt Apples
Friends of the Castlemaine Art Museum
Colour Factory
Tint Design
Media and Tourism Partners
Art Guide Australia
Castlemaine Mail
Donors
Anonymous benefactors through Smith & Singer
Anonymous
Harold & Frances Abbott Foundation
Bardas Family
Percy Baxter Trust
Christine Bell
Miss Winifred Brotherton
Castlemaine Art Museum Foundation
Percy Chaster
K. & H. Cooper
Neil M Daly
James Farrell
Diane Frape-Linton
Ian Potter Foundation
L & H Hect Trust
Sir John & Lady Higgins and Miss Catherine Higgins
Jack Loel
Peter Lovell & Michael Jan
Helen Macfarlane and the Macfarlane Fund
Frank McKillop
E.B. Myer Charity Fund
William Paxton Charitable Fund
John T Reid Charitable Trust
E.A. Richards
Michael Rigg
Sandhurst Trustees
A C and B T Sinclair
The S R Stoneman Foundation
T C, B B and S R Stoneman
Helen M. Schutt Trust
Albert and Barbara Tucker Foundation
UTAH Foundation
Vizard Foundation
Walter J Whitchell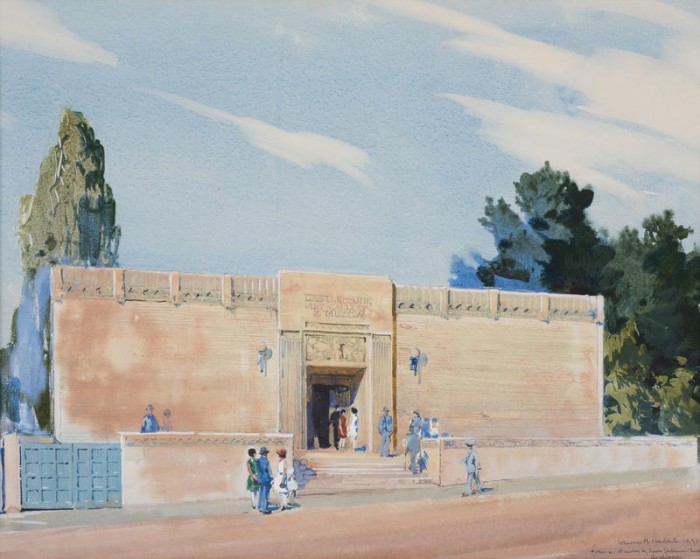 Harold Herbert, Castlemaine Art Gallery and Museum, 1931, watercolour. Gift of the artist, 1931. Image: Ian Hill.
Membership
Our community of members can feel proud in helping to keep our unique collection alive.
CAM was founded through the efforts of the Castlemaine community and continues to play an important and privileged role as a custodian of a collection on behalf its community.
As well as supporting CAM, members receive a free yearly subscription to Art Guide Australia as part of their membership.
Success
Thanks, we've submitted your application.
To activate your membership please pay online, or call us to pay over the phone.
Pay Now
Success
Thanks! We'll be in touch with your membership details.
Whoops, your application can't be processed. Please contact us directly.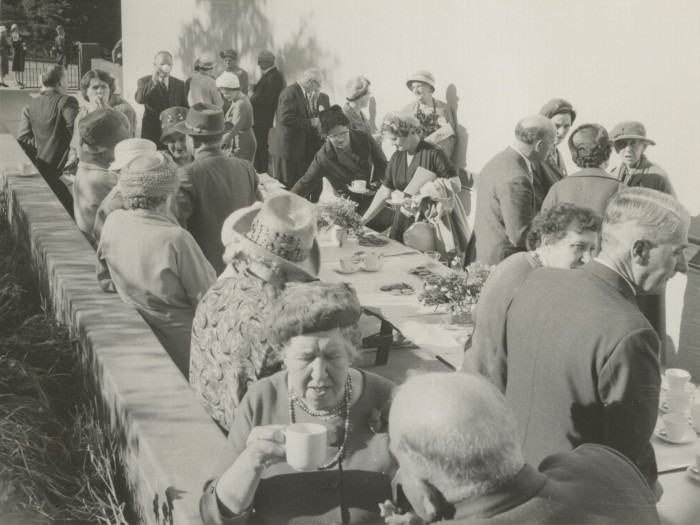 Unknown photographer, Celebrating the opening of the Higgins Gallery, 1961.
Volunteer
CAM's volunteers are integral to our operations.
Volunteers provide support across all facets of the organisation, including guiding, front of house support, events, collection research, and administration. CAM is not currently accepting new volunteers. Subscribe to our newsletter (below) to keep up to date with future opportunities.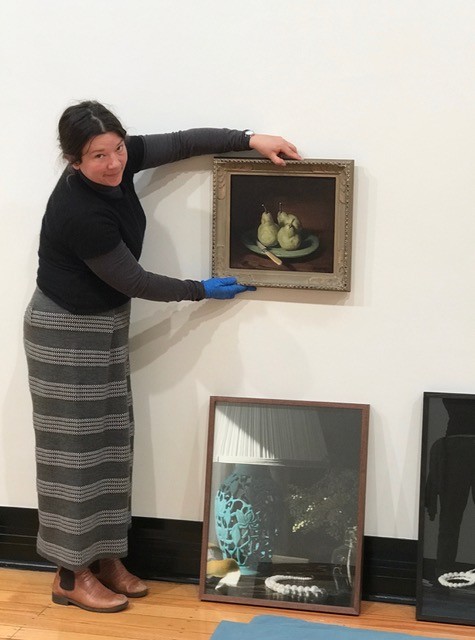 CAM intern Emily Donehue installing Harley C Griffiths (1908–81), Pears 1939, in the Higgins Gallery. Image: Janina Green.
Friends of CAM
Friends of the Castlemaine Art Museum (FOCAM) is a supporter group for Members of the Castlemaine Art Museum to enhance their membership of CAM and enjoy art-related social fundraising events.
A small annual fee will ensure your support of CAM.
You will quickly recoup your membership fee. Benefits include:
Priority, discounted booking to our fundraising events, including monthly CAM Conversations where artists, curators and other experts speak and add to your knowledge and enjoyment of art;
Join the friendly group on bus excursions;
Come along on organised car pool events to nearby galleries or artists' studios;
Come to our Christmas break-up lunch, held exclusively for FOCAM Members;
Join our Committee.
Our Committee works hard to ensure we bring you interesting events and excursions, and suggestions are always welcome. All funds raised at functions go to CAM. Your membership fee covers our costs and insurance.
To join Friends of Castlemaine Art Museum Inc. you must be a financial member of the Castlemaine Art Museum.
If you are a current CAM member, simply download the FOCAM Membership Form and email to info@castlemaineartmuseum.org.au or deliver to Reception at CAM.
The FOCAM membership year is from 1st December to 30th November.
FOCAM Membership Fees -
First Year $15 (includes $5 joining fee)
Annual Fee $10
Payment is to be made directly into Friends of Castlemaine Art Museum Inc. bank account or by cash handed to the Reception at CAM in an enveloped clearly marked with your name.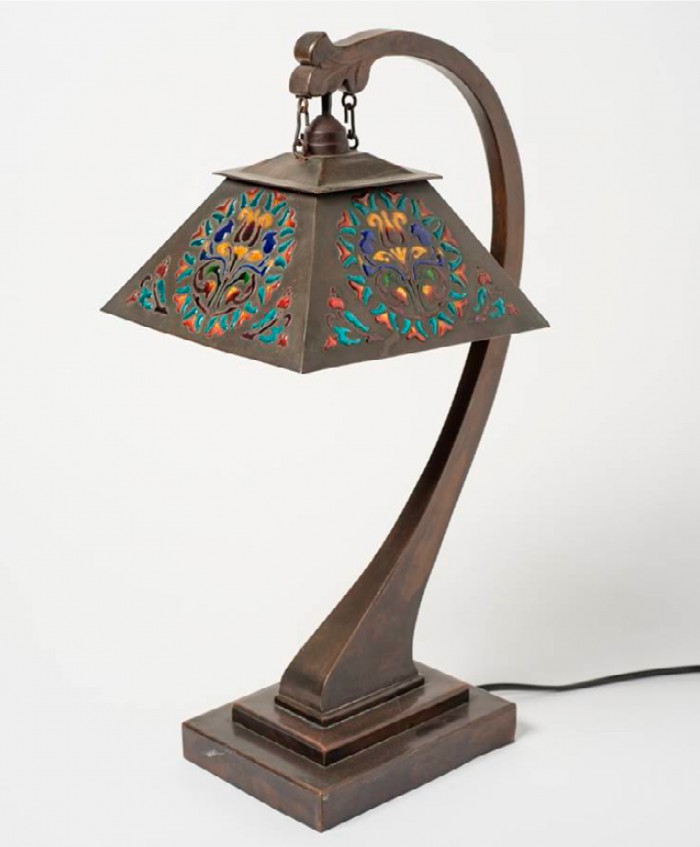 Elsie M Clark, Lamp, c1930-1950, enamelware and metal. Image: Ian Hill