Collection
View the collection
Explore the CAM collection of over 2000 artworks and 4000 historical artefacts.
Founded in 1913, the Castlemaine Art Museum has a unique collection of Australian art and fascinating historical artefacts reflecting the early history of the district.
The art collection's focus on Australian art extends beyond familiar media such as painting, sculpture, printmaking and drawing to include graphic arts (especially illustration and cartooning) as well as ceramics. Recently, CAM has initiated prizes in contemporary art and printmaking that seek to reinforce the museum's original attention to living Australian artists. The art collection consists of approximately 1600 paintings, prints and works on paper; 200 art ceramics, 80 plinth-scale sculptures, and 120 photographs.
The social-historical collection includes furniture, costume and textiles, photographs in 19th and early-20th century formats, ceramics, metalwork, natural history specimens, documents and historical publications, municipal and community documents, architectural ornaments, gold rush artefacts, and items associated with people of local historical significance.
View collection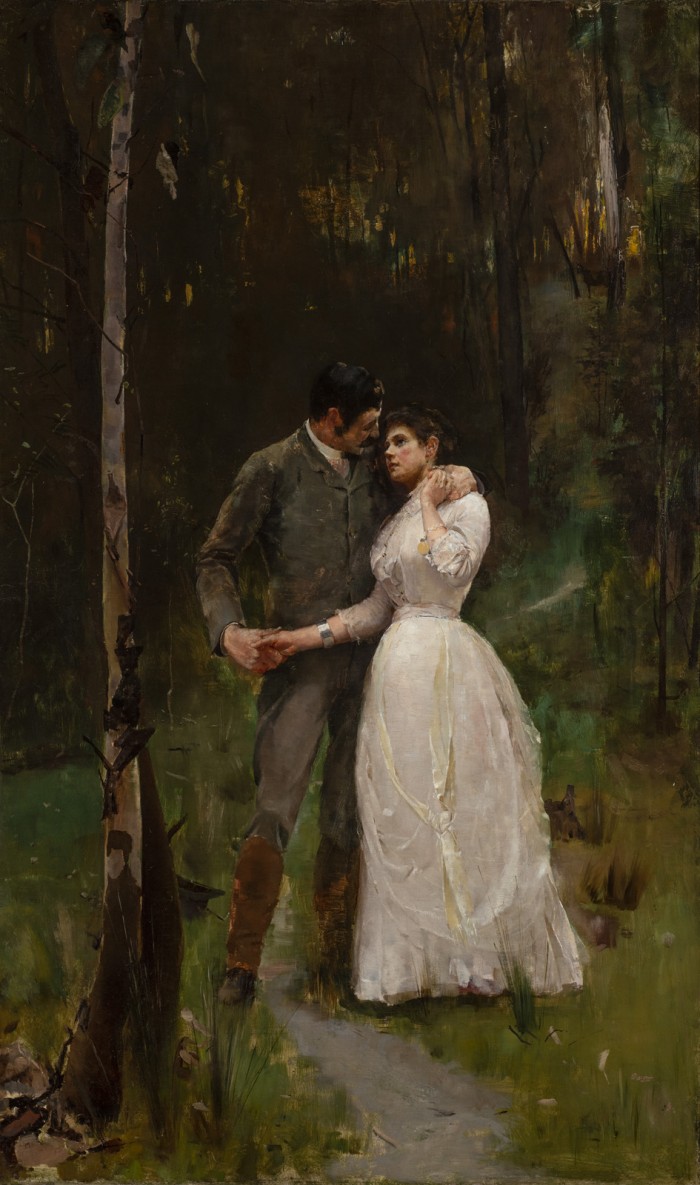 Tom Roberts, Reconciliation, c1887, oil on canvas. Gift of the artist, 1930. Image: Ian Hill.
Reflections on the collection
CAM has invited members of the extended community to write brief reflections on aspects of CAM's art and museum collections.
Reflections is part of an experiment, indeed a commitment from the Castlemaine Art Museum, to make the magnificent resource of our collection relevant and uplifting, even when our doors are closed. We thank all who have contributed their knowledge, experience, and passion for the Castlemaine Art Museum and Collections.
To receive new Reflections in your inbox, subscribe to our newsletter, via the form below.
We acknowledge Christine Bell and Creative Victoria for their generous assistance, enabling CAM to share stories and reflections during social isolation.
Read reflections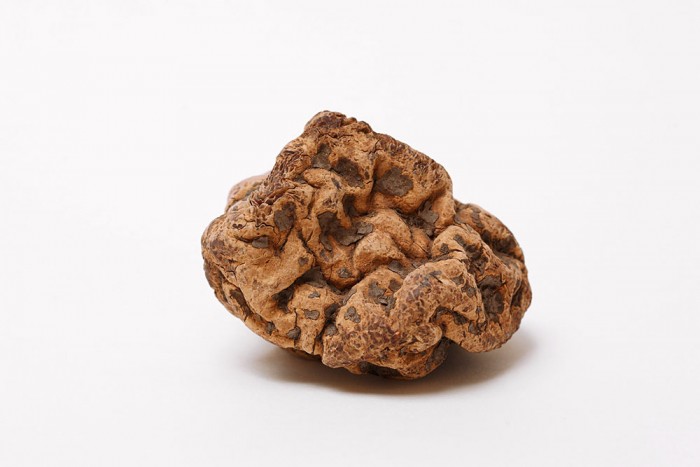 Truffle (a collected sample of traditional food), Edible fungus or truffle (Polyporus Mylittae), Found on Mt Franklin Estate. Image: Felix Wilson.
Corrections and Additions
Please help us correct any errors or sensitivities in catalogue content.
Our catalogue is a living document, changing and updating as we add information and knowledge. With a vast collection, acquired over more than 100 years, we are aware that there may be inconsistencies or errors in data, as well as colonial or antiquated language.
Please get in touch if you notice any errors in cataloguing data, any cultural assumptions which may be sensitive or inappropriate, or have more information related to collection items.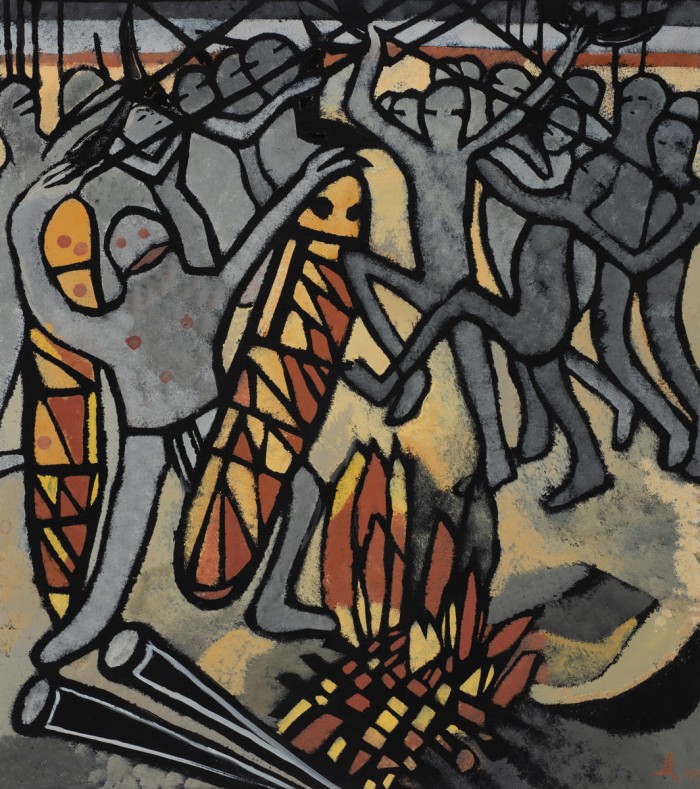 Margaret Preston, Aborigines Preparing for a Fight, 1890-1963, gouache stencil on black paper. Purchased with asssitance from teh Caltex-Victorian Government Art Fund, 1981.
Copyright
CAM has made the every effort to seek permission from copyright holders for images reproduced in the online collection.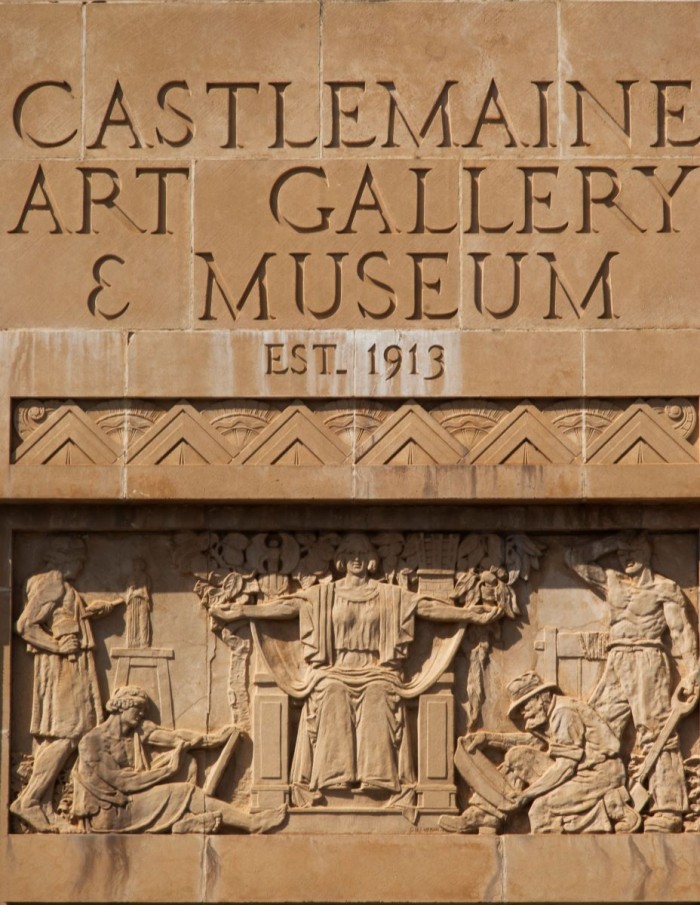 Detail of Castlemaine Art Museum's Facade. Image: Julie Millowick.
Acknowledgements
Thank you to our generous supporters who have facilitated the development of our online collection and digitisation project.
Thank you to the Albert and Barbara Tucker Foundation through Smith & Singer, Creative Victoria through the Digitisation Roadshow, AMaGA Victoria's Regional Galleries Digitisation Program, and our collection volunteers.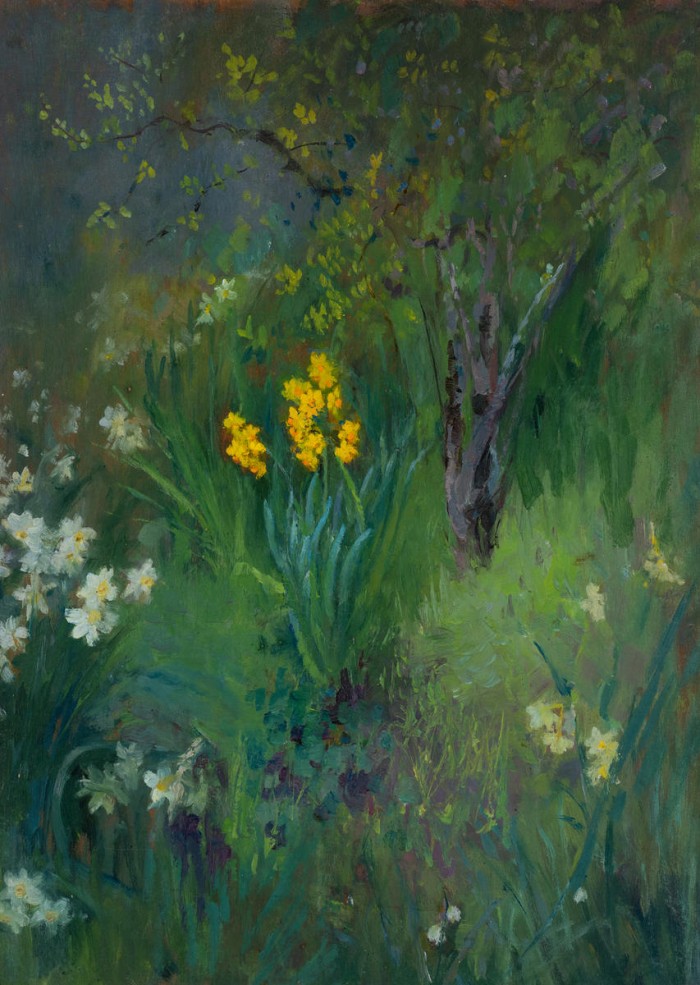 Ina Gregory, Our Garden, 1850-1913, oil on wood. Gift of Artist, 1913. Image: Ian Hill.