Capper on Riley Munduwalawala and Kuntiwa Pumani
In reflecting on approaches to landscape in contemporary First Nation's painting, Chris Capper declares the exhibition Ginger Riley: The Boss of Colour (15 January-19 April 2015)―commissioned by CAM's then Director, Jennifer Kalionis―and the work of Betty Kuntiwa Pumani as hugely significant in rethinking the landscape tradition in Australia.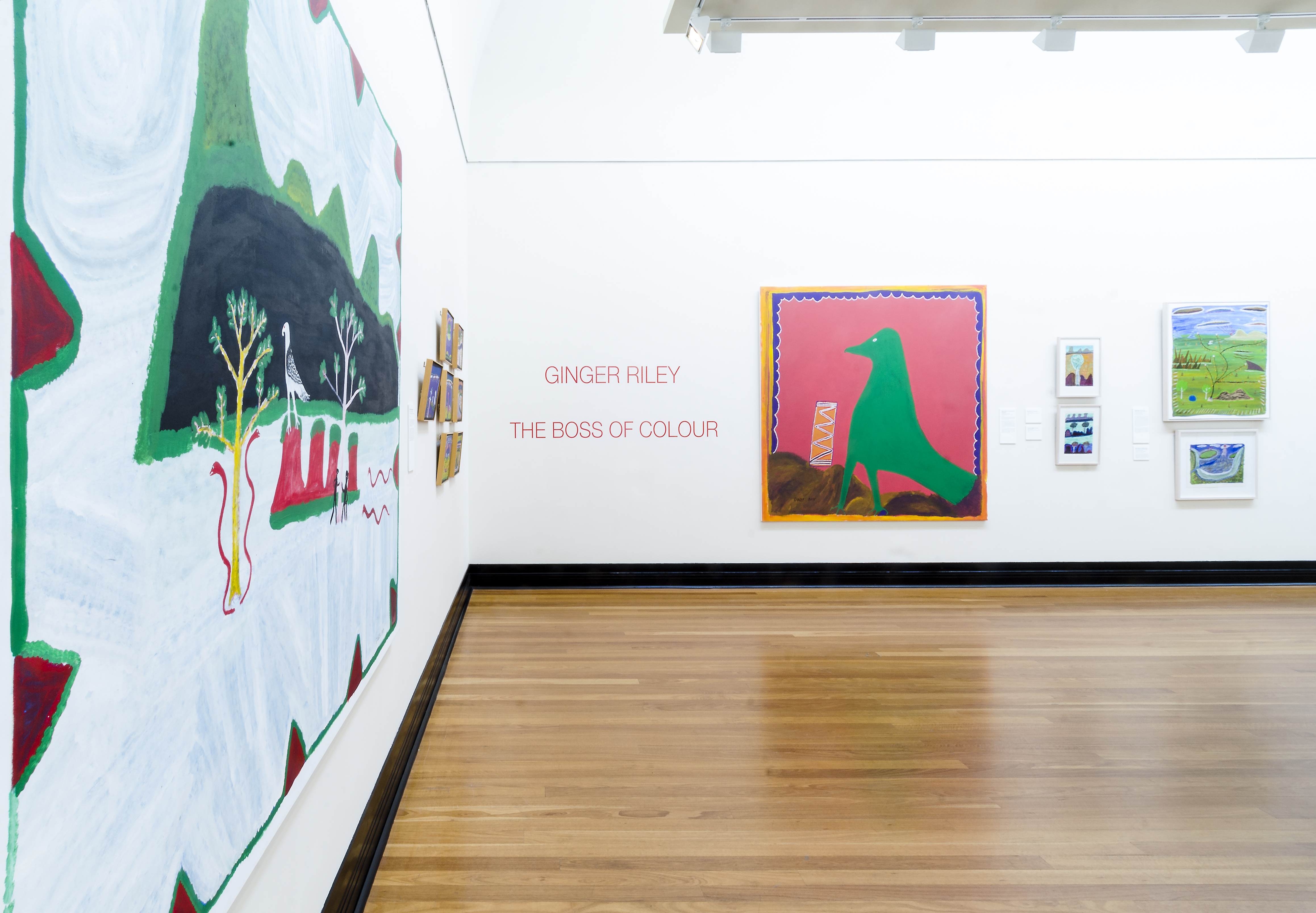 Landscape inspiration from Ginger Riley and Betty Kuntiwa Pumani

February 2015 was an exciting month. We were sleeping on an air mattress, keeping cool from the summer heat, under the ceiling fan in the lounge of our future home in Castlemaine. Pending Castlemaine residents, we were looking to leave our life-time of working with, in and around community, life, art and culture, in northern Australia. Apprehension floated around us, perhaps like that around new migrants in their first house in the Australian suburbs – had we made the right choice?

And then, exciting serendipity struck. Our new home town's art gallery beckoned, with it's turning point exhibition Ginger Riley: The Boss of Colour. A reduction in apprehension levels was met, thanks to CAM.

It was a turning point exhibition? Why?

After 100 years, we were told, it was the first exhibition of Indigenous art at the Castlemaine Art Museum. It was the first major exhibition in Australia of Ginger Riley Munduwalawala's work since 1997, and the first survey exhibition in a public gallery since the artist had passed away in 2002.

A turning point vision for the future, and for change, as we read in then Director Jennifer Kalionis' foreword, "The Boss of Colour reflects an institutional change in our regional art gallery which acknowledges the exhibition of contemporary Indigenous art as integral to a more reflective understanding and interrogation of Australian art, particularly the landscape tradition".

With no single "landscape tradition" amongst Indigenous artists, The Boss of Colour challenged concepts of landscape and the use of colour and perspective. Reflecting this challenge, perhaps Kalionis' vision of an integral consideration of Indigenous art could be supported by contrast and conversations with a collection known for its strong representation of non-Indigenous landscape art.

Back to the art and the landscape. In simple terms here was a regional art gallery in southern Australia programming an exhibition of a significant Indigenous artist. This was really something. The Boss of Colour was not to be missed.

So, where did Ginger Riley's work fit in the landscape tradition? Judith Ryan AM (recently retired Senior Curator of Indigenous Art at NGV) put it so well, "Ginger Riley's superlative colour sense sets him apart from other Indigenous Australian artists. His unique landscape manner, studded with icons of identity and place, is instantly recognisable yet it has attracted both passionate acclaim and vitriolic criticism…Riley's joyous paintings … do not quite fit with mainstream forms of contemporary art or with stereotypical notions of Aboriginal art."

Riley (circa 1936- 2002) was a saltwater man, from Marra country in the gulf region of the Northern Territory. He is recognised for his strikingly bright and bold paintings of his Mother country. Paintings that relate to the landscape of country he was responsible for, as a caretaker-custodian. Riley, like other senior Marra men with whom I was privileged to spend time, had stature far beyond his own community, knew his country, and knew the landscape - geographically, culturally, spiritually, and artistically. He is a landscape artist.

Four years later, CAM hosted the 2019 Len Fox Painting Award. The winner was Betty Kuntiwa Pumani's landscape, Antara, 2018, currently hanging in CAM's reception gallery.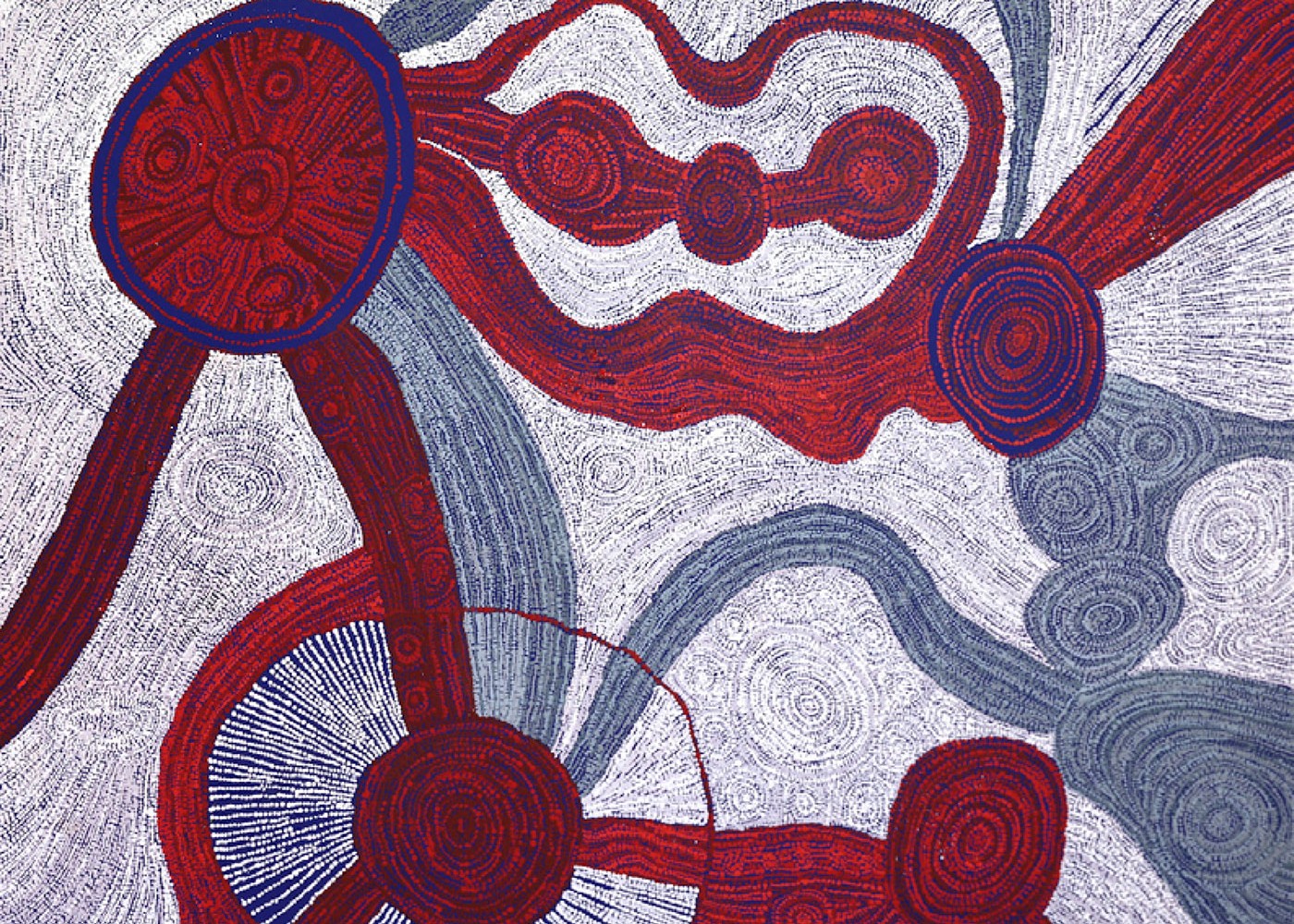 This stunning work depicts the country of Pumani's grandparents and entire family. Antara, declared an Indigenous Protected Area (IPA) in 2011, is a 846,000 hectare desert landscape in far north-west South Australia. The Antara landscape encompasses the hills of the (otherwise known as) Everard Ranges and red, sandy, bush and dune-covered plains, creeks and rockholes and, of particular focus for Pumani, the locally harvested and consumed witchetty grubs and white-flowered bush tobacco.

Antara portrays the landscape with rockholes, creeks and a mountain top, in the context of the rocks, dance and ceremony of the Tjukurpa storylines for the Maku or witchetty grub. And of the importance of rain, and water, to the essence of life. As Rachel Kent observes, "Maku are usually collected after the rains…. The intense, saturated colours of Pumani's paintings reflect a landscape revitalised....The strong blue tones have the quality of water in rock holes after fresh rain. They contrast with the vibrant red of the rocks, which shine wet in the light, then turn a deep purple tone with sundown. Bright white witchetty grubs and bush tobacco flowers come out after the rains in generous abundance."

Pumani's landscapes may be vastly different to Riley's, but they also reflect the importance and beauty of the landscape around her, the landscape for which she cares as a custodian.

Recently, a friend recounted her experience in front of an Indigenous landscape, at Bendigo Art Gallery. Having watched the work for quite some time, having followed the flows and marks of the artist, she reflected on her pleasure in better viewing and understanding Indigenous landscape, and to better see it from the artist's perspective.

It took time, and a preparedness to watch and look, but maybe her changed experience was in seeing contemporary Indigenous art as integral to a more reflective understanding and interrogation of Australian art.

Author's postscript:
My reflection suggests that there is a strong argument to consider different, Indigenous perspectives on landscape. And, this suggestion has also applied to my sense of being in and on country, in southern Australia, encompassing a new and different landscape. I recall the first few times I visited CAM, and to be honest, I was initially a little underwhelmed at the focus on powerful person's portraits and traditional Australian landscapes of the 19th and early-mid 20th centuries, in comparison to my lived experience of the powerful colour, design and perspective of works relating to land across northern Australia. The longer I live in southern Australia, my appreciation of those landscapes changes, as I feel more connected to where we have chosen to live. This central Victorian Dja Dja Wurrung landscape we all live in has beauty of its own, and it plays a strong and important role in our sense of being and place. I am really enjoying modern and contemporary perspectives on this landscape, and enjoying relating to those perspectives that often previously underwhelmed me.

I cannot deny however, the excitement that also occurs on seeing that red sand of Central Australia again, or watching the gentle sway of pandanus along Top End wetlands and escarpment creek lines, and seeing new works from established and emerging Indigenous artists.