Orbit: Gabrielle Martin - Through the Long Grass
28 July—4 September 2022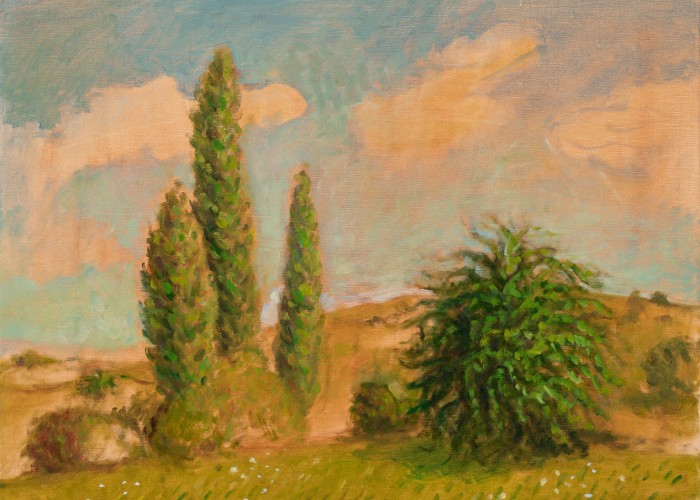 Gabrielle Martin, Landscape with Hawthorn and Poplars, 2022, oil on linen. Image: Ian Hill
Gabrielle Martin paints the landscape near her home in the Goldfields town of Malmsbury. This land was reshaped in the 19th Century by civic rail and water projects, and grazing that serviced the goldmining industry. There are parallels between this landscape and the orchards and paddocks on the outer fringes of Melbourne when she was growing up in the 1970s. Wild fruit trees, weathered pines and dry fields of grass are common to both, as well as endemic gorse, blackberries and briar rose that resist the best efforts at control. Watching children playing in the long grass unlocks memories of her own childhood play.
As children we inhabit landscapes around us imaginatively as well as physically, and as we leave childhood these landscapes inhabit us.
Martin develops her paintings in the studio from sketches done on site. This process allows for a distancing from the literal, which frees her to seek visual expression for feelings, as first perceptions are transformed by memory and imagination.
Sometimes her images include figures. These are inspired by the children around her, but they also exist as an entry point into a poetic space, which is as much an inner as an outer landscape.

Gabrielle Martin
Gabrielle Martin has held 7 solo exhibitions and has been a finalist in many national art prizes, including the Archibald Prize, Doug Moran National Portrait Prize, Portia Geach Memorial Award, Len Fox Painting Prize, Maldon Portrait Prize and Metro 5 Award. She is this year's winner of the Maldon Portrait Prize and is currently included in Archie100, an exhibition celebrating 100 years of Archibald Prize history, which is touring nationally from 2021-2024. Her work is represented in the collections of the National Portrait Gallery, the State Library of Victoria and Deakin University. She tutors part time at Art Pathways in Castlemaine and lives on Dja Dja Wurrung Country in Malmsbury.

This is the eighth exhibition in Castlemaine Art Museum's Orbit Program; a series of exhibitions showcasing artists who live and work in Central Victoria which first commenced in December 2020.
Supporters
The Besen Family Foundation