Terrace Projection: Equal the Contest
16 June—10 September 2023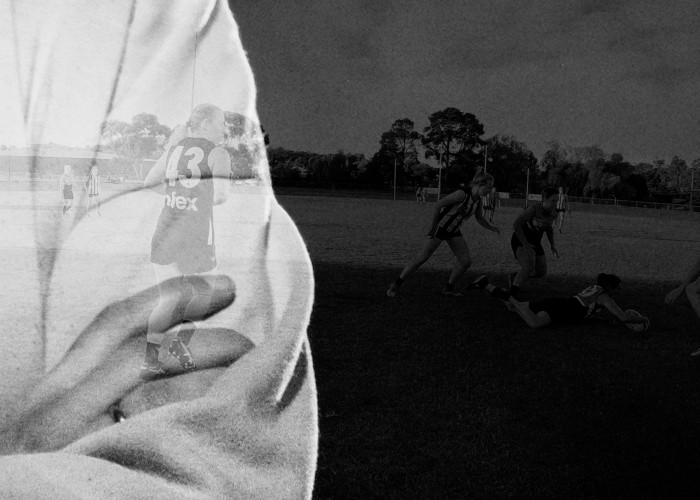 Mitch Nivalis, Equal the Contest, 2023, video still. Courtesy of the artist.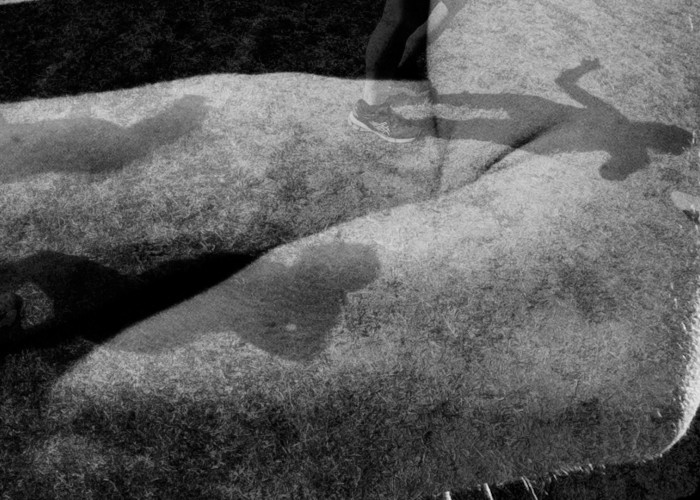 Mitch Nivalis, Equal the Contest, 2023, video still. Courtesy of the artist.
Terrace Projection: Equal the Contest
A new commission by Mitch Nivalis
Equal the Contest began as a Master of Photography project that aimed to use image-making to challenge gender roles and stereotypes. As my research progressed, it became a feature documentary film and photobook about my journey learning to play AFL in the Mt Alexander Falcons Women's Sports Club, along with this projection, commissioned by CAM. This projection is part of a larger body of work, also titled Equal the Contest.
Close up, genderless stills of our bodies are overlaid with moments of impact from the game, subverting assumptions around who has a right to belong on the football field and what our bodies are capable of. In a celebration of the diversity of players the Falcons have attracted, portraits of each of the 2022 players appear, growing in number as the film progresses."
– Mitch Nivalis

Mitch Nivalis
Mitch Nivalis (they/them) is a photographer and filmmaker based near Castlemaine. They are best known for their work advocating for change around visibility for diverse communities in Regional Victoria. In 2020, they published their first research study, titled Photographers as Changemakers, and in 2022, followed it up with Picture Change, a guide for organisations to produce more diverse and inclusive images. Equal the Contest is Mitch's largest body of work to date and the documentary film premiered at the 2023 Castlemaine Documentary Film Festival.

2023 Castlemaine Documentary Festival
The Castlemaine Documentary Festival is held annually in mid Winter in Castlemaine's iconic Theatre Royal. The Festival offers a curated program of superb Australian and international non-fiction films. In addition to their Terrace Projection video work at CAM, Nivalis' documentary film, also titled Equal the Contest, premiered at the 2023 Castlemaine Documentary Film Festival.

Artist Acknowledgements
This project would not have been possible without the incredible leadership of the executive committee and volunteers at the Mt Alexander Falcons, whose vision to establish a club for women and gender diverse people drew players from all walks of life. I thank them immensely for their dedication and commitment to creating access to AFL against the odds. And to the players, who each had the courage to turn up and give this crazy game of AFL a go, no matter our ability, age, culture, sexuality, gender identity or body size. I'm so proud to kick a footy with all of you. Finally, thank you to Naomi Cass and the staff at CAM, who saw the opportunity to bring the arts and sport together and to celebrate our vibrant local community.

Terrace Projections
Through the Australian Government's RISE Fund, Castlemaine Art Museum will host Terrace Nights and Terrace Projections, a program of exhibitions, installations and events for the community. Using the medium of light, CAM is bringing contemporary images and ideas to the streets of Castlemaine in a new series of commissions with local and national artists. Screening every evening from sunset (5:15pm).

Public Programs
Free public programs, including an artist in conversation, will be presented in the gallery throughout this exhibition. All details will be shared on our website. Click here to subscribe to our mailing list to receive special updates and invitations.
Supporters
Restart Investment to Sustain and Expand (RISE) Fund – an Australian Government Initiative