Orbit: Mark Dober - The Edge of Town
8 September—16 October 2022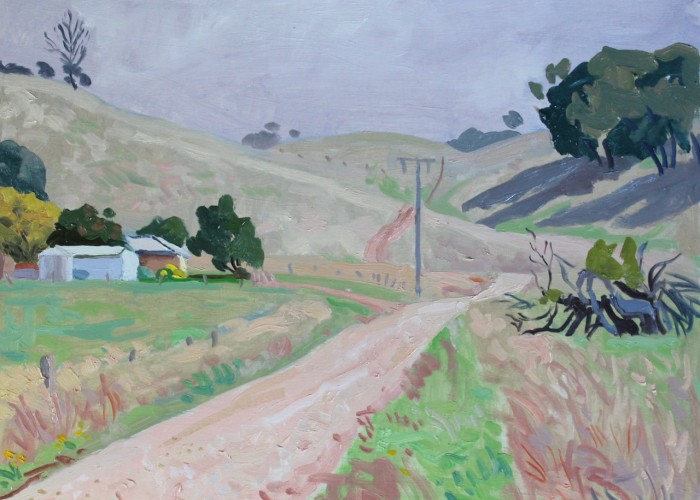 Mark Dober, Country road, with house and telephone pole (Yapeen), 2022, oil on board, 40 x 50 cm
In keeping with his practice of making paintings and drawings in the landscape, Mark Dober has made work specifically for this show at the edge of Castlemaine and its surrounds.
Subjects include houses by country roads or railway tracks, a church nestled among trees at Chewton, a path winding its way along Forest Creek, and Poplars in a pastoral setting. Light and space, the near and the far, the bucolic and the strange, make their appearance in ways which convey contrasting and ambiguous moods.
Above all, Mark's work conveys a direct and lively response to landscape, one grounded in observation.

Mark Dober
Mark Dober makes drawings and paintings in the landscape around Castlemaine. He regularly undertakes residencies, making wall-sized works on paper in watercolour and gouache. The most recent of these solo shows was at Wagga Wagga Art Gallery, with forthcoming solo shows at Swan Hill Regional Gallery and Hawkesbury Regional Gallery. Mark also shows at Alexandra Sasse Gallery in Melbourne.
Mark is a regular finalist in national contemporary art prizes, including the Swan Hill Print and Drawing Award, Rick Amor Self Portrait Prize, Salon des Refuses, Paul Guest Drawing Prize, and Arthur Guy Painting Prize. Mark has a PhD in painting from Monash University. He is an independent art writer and regularly conducts painting workshops.

This is the ninth exhibition in Castlemaine Art Museum's Orbit Program; a series of exhibitions showcasing artists who live and work in Central Victoria which first commenced in December 2020.
Supporters
The Besen Family Foundation
Mount Alexander Shire Council Events Grants Program