David Rosetzky: Air to Atmosphere
24 March—3 September 2023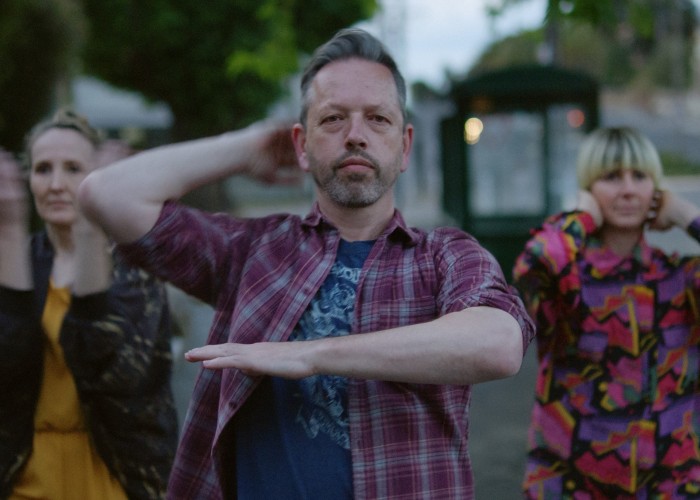 David Rosetzky, Air to Atmosphere (detail), 2023, still from two channel video installation, colour, sound. Duration 63 minutes 51 seconds. Courtesy of the artist and Sutton Gallery, Melbourne.
David Rosetzky
Air to Atmosphere
David Rosetzky is collaborating with members of the LGBTQIA+ community in Central Regional Victoria including &so, Eden Swan, Terence Jaensch and Rhett D'Costa amongst others, to create a major exhibition commissioned by Castlemaine Art Museum.
Flowing from Rosetzky's renowned practice in video and performance, this large collaborative and multi-disciplinary work includes photography, filmmaking, performance, publishing, music, song, choreography by Jo Lloyd and social events created with and about local artists and community members.
Air to Atmosphere explores the diversity, trauma, resilience, and pride of the LGBTQIA+ community. Presented in the Stoneman and Benefactor Galleries at CAM, including live performance, and a major Terrace Projection every evening at dusk.

Exhibition Publication
Produced on the occasion of the exhibition, the publication extends Rosetzky's collaborations with the local community. Published by Sonntag Press, it features conversation transcripts, original song lyrics, a newly commissioned essay by art historian Professor Anne Marsh and poems by Terence Jaensch, alongside full-colour reproductions of the video stills and portraits. Edition of 250. Available for purchase here.

Exhibition Microsite
Click here to view the accompanying website for Air to Atmosphere, featuring David Rosetzky's photographic portraits and long-form interviews with participants.

David Rosetzky
David Rosetzky is an artist who is passionate about finding new ways to represent LGBTQIA+ and marginal identities through an interdisciplinary and collaborative approach to art making. Often working with practitioners from the fields of theatre, dance, and film, he creates videos, installations and photographic works that question whether our identity is informed by how others see us, or how we see ourselves.
With an extensive exhibition history both in Australia and overseas, Rosetzky has presented his work in over 30 solo exhibitions and 60 group exhibitions. His Portrait of Cate Blanchett (2008), commissioned by the National Portrait Gallery, Canberra, was exhibited in The Third ICP Triennial of Photography and Video at the International Centre for Photography, New York. His works are held in numerous collections including the National Gallery of Australia, National Gallery of Victoria, National Portrait Gallery, Art Gallery of New South Wales, Art Gallery of South Australia, Art Gallery of Western Australia, Museum of Contemporary Art Australia, and Monash Gallery of Art.

Terrace Projections
Through the Australian Government's RISE Fund, Castlemaine Art Museum will host Terrace Nights and Terrace Projections, a program of exhibitions, installations and events for the community. Using the medium of light, CAM is bringing contemporary images and ideas to the streets of Castlemaine. In a series of commissions, local and national artists will respond to a range of relevant topics such as car culture, First Nations and queer communities, industry, incarceration and youth.
A section of David Rosetzky's video work, Air to Atmosphere will be viewable from the CAM facade every evening at dusk, from 24 March—14 June 2023.

Public Programs
Free public programs, including artist floor talks and live performances, will be presented in the gallery throughout this exhibition. All details will be shared on our website. Subscribe to our mailing list to receive special updates and invitations.
Supporters
Restart Investment to Sustain and Expand (RISE) Fund – an Australian Government Initiative



Australia Council for the Arts



Victorian Government's Pride Events and Festivals Fund 2022-23



Bendigo Art Gallery



Castlemaine State Festival



Haymes Paint



Pidgeon Ward



Sonntag Press



Tint Design