Cloudy – a few isolated showers
23 November 2020—24 November 2021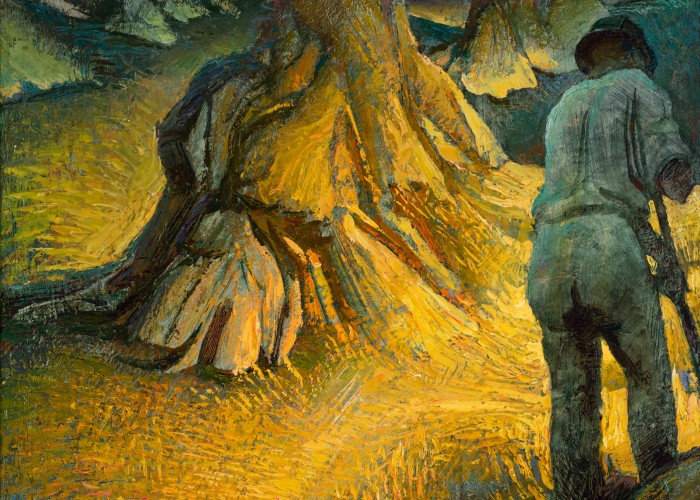 In times of uncertainty, the sky is always there; blue, limitless and clear. Except for clouds. The sky evokes strong sensations in art, poetry and the gallery.
Clouds gathered in the Whitchell gallery - with historical and contemporary painting, photography, sound, watercolour and sculpture, curated by Jenny Long.
Artists
Ros Bandt, W Rubery Bennett, Lina Bryans, Ernest Buckmaster, Rupert Bunny, Louis Buvelot, Mira Gojak, Charles Green and Lyndell Brown, Murray Griffin, Will Ashton, Hans Heysen, Frederick McCubbin, W B McInnes, Dora Meeson, Vipoo Srivilasa, James Tylor (Nunga (Kaurna)), Munuy'gnu Marika (Rirratjigna), Naminapu #2 Maymuru (Mangalili), Edwin Stocqueler, R W Sturgess, Verey & Co, Roland Wakelin.
Image: Murray Griffin, Stooks and Storm, 1948, Oil on three ply wood, Thomas Hair and Caroline McCreery Bequest Fund, 1948
Supporters
Tintdesign
Art Design Australia
Creative Victoria through the Digitisation Roadshow