Cloudy – a few isolated showers
23 November 2020—30 January 2022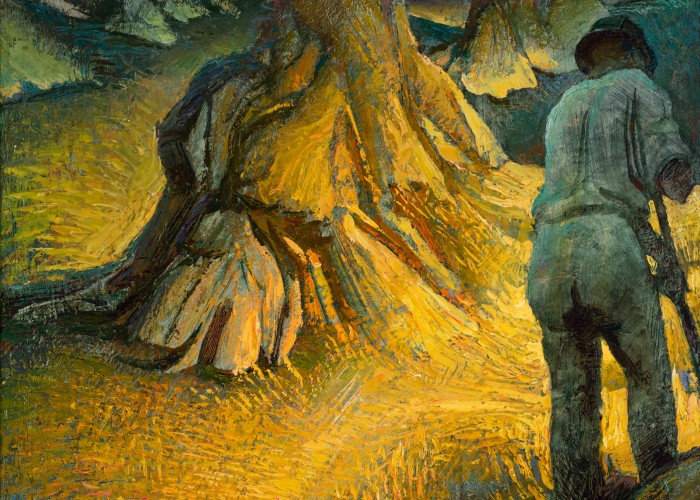 Murray Griffin, Stooks and Storm, 1948, Oil on three ply wood, Thomas Hair and Caroline McCreery Bequest Fund, 1948
In times of uncertainty, the sky is always there; blue, limitless and clear. Except for clouds.
Clouds have gathered in the Whitchell gallery – contemporary works by Lyndell Brown and Charles Green, Mira Gojak, Katrin Koenning and Vipoo Srivilasa together with historical works and objects from the collection.
Artists
Will Ashton, Ros Bandt, W Rubery Bennett, Lina Bryans, Ernest Buckmaster, Rupert Bunny, Louis Buvelot, Mira Gojak, Charles Green and Lyndell Brown, Murray Griffin, Hans Heysen, Katrin Koenning, Frederick McCubbin, W B McInnes, Dora Meeson, Robert Vere Scott, Vipoo Srivilasa, Munuy'gnu Marika (Rirratjigna), Naminapu #2 Maymuru (Mangalili), Edwin Stocqueler, R W Sturgess, Verey & Co, Roland Wakelin.
Supporters
Tintdesign
Art Guide Australia
Creative Victoria through the Digitisation Roadshow