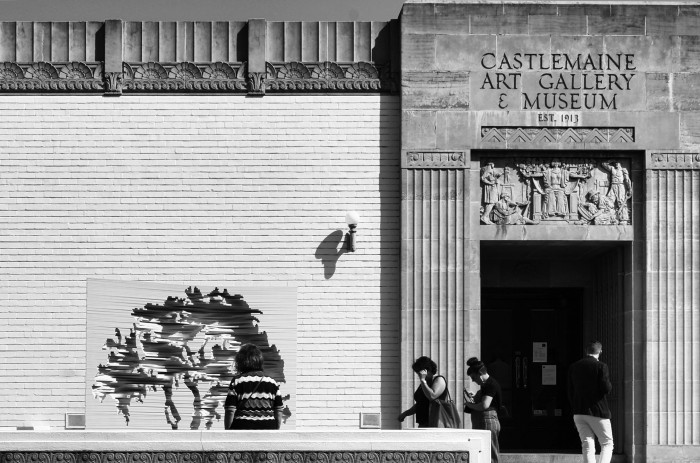 News
Artist Floor Talk | David Frazer
Saturday 1 April, 10:00am — Saturday 1 April, 11:00am
Join us at CAM for a floor talk with artist David Frazer, discussing his current exhibition, For the Love of Song on Saturday 1 April, 10am.
In this exhibition, For the Love of Song, two great art forms entwine. Renowned printmaker David Frazer collaborates with some of the most iconic Australian and international songwriters of a generation: Paul Kelly (AUS); Don Walker (AUS); Nick Cave (AUS/UK); Nick Lowe (UK) and Tom Waits (USA). Frazer's most recent collaboration with Tom Waits is a world premiere.
In this free talk, Frazer will discuss his handmade illustrated books, endorsed and signed by the recording artists, as well as the suite of linocuts, broadsheets (images from the book), and magnificent wood blocks presented as part of this exhibition.
David Frazer has held over 40 solo exhibitions in Australia, London and China. He has won many art awards locally and internationally including the 1st International Print Biennial in Guanlan China, the Cossack Art Award (invited artist category), the Broken Hill Outback Art Prize, honourable mention (International Print Biennial Exhibit, Taiwan) and 6 people's choice awards. In 2019, he was the Australian Commissioner for the Ulsan International Woodcut Biennial in Korea. He has been selected 3 times to hang in the Royal Academy of London Summer Exhibition. In 2007 the ABC produced a documentary on Frazer as part of the "Artist at Work" series. He has taught printmaking extensively here and overseas. Frazer lives and works in Castlemaine.
Where: Castlemaine Art Museum
Date: Saturday 1 April
Time: 10am – 11am
Cost: Free

No RSVP required.

Supported by the Castlemaine State Festival and Rotary Club of Castlemaine.
Read more
Artist Floor Talk | David Rosetzky
Saturday 1 April, 12:00pm — Saturday 1 April, 1:00pm
Join us at the gallery for a floor talk with artist David Rosetzky, discussing his major commission for Castlemaine Art Museum, Air to Atmosphere on Saturday 1 April, 12pm.
Air to Atmosphere explores the diversity, trauma, resilience, and pride of the LGBTQIA+ community. David Rosetzky, in collaboration with members of the community in central Victoria, including &so, Eden Swan, Terence Jaensch and Rhett D'Costa amongst others, has created a major new work including video and photographic portraits.
Flowing from Rosetzky's renowned practice in video and performance, this large collaborative and multi-disciplinary work includes photography, filmmaking, performance, publishing, music, song, choreography by Jo Lloyd and social events created with and about local artists and community members.
David Rosetzky is an artist who is passionate about finding new ways to represent LGBTQIA+ and marginal identities through an interdisciplinary and collaborative approach to art making. Often working with practitioners from the fields of theatre, dance, and film, he creates videos, installations and photographic works that question whether our identity is informed by how others see us, or how we see ourselves. With an extensive exhibition history both in Australia and overseas, Rosetzky has presented his work in over 30 solo exhibitions and 60 group exhibitions.
Where: Castlemaine Art Museum
Date: Saturday 1 April
Time: 12pm – 1pm
Cost: Free

No RSVP required.

Supported by the Restart Investment to Sustain and Expand (RISE) Fund – an Australian Government Initiative, Australia Council for the Arts, and the Victorian Government through the Pride Events and Festivals Fund.
Read more